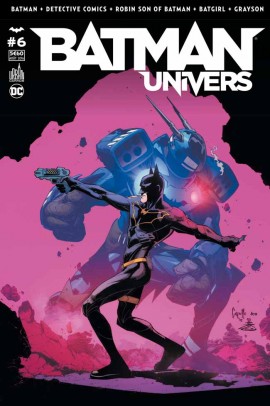 BATMAN UNIVERS tome 6
LA SAGA DU NOUVEAU BATMAN CONTINUE !
Scott SNYDER et Greg CAPULLO poursuivent l'enquête du nouveau Batman, que Powers cherche à licencier ! Le nouveau Batman et la Ligue de Justice, 2e partie, par Peter TOMASI et Marcio TAKARA ! Jour de fête pour Batgirl et les noces d'Alysia, par Cameron STEWART, Brenden FLETCHER et Babs TARR ! Talia retrouve Damian, par Patrick GLEASON ! Le Requin-Tigre et Ladytron s'opposent à Dick Grayson et Spyral, par Tim SEELEY, Tom KING et Mikel JANIN !
(Contient les épisodes US BATMAN #45, DETECTIVE COMICS #46, BATGIRL #45, ROBIN SON OF BATMAN #5, GRAYSON #13)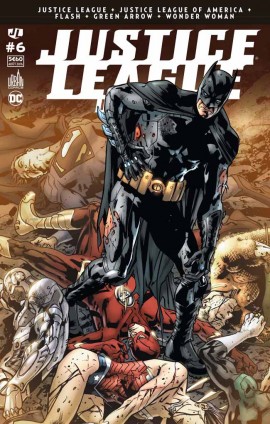 JUSTICE LEAGUE UNIVERS tome 6
La Guerre de Darkseid bat son plein dans JUSTICE LEAGUE !
Big Barda retrouve Mister Miracle et la Ligue de Justice, par Geoff JOHNS et Francis MANAPUL ! Les fidèles de Rao envahissent l'Atlantide et la Forteresse de Solitude, par Bryan HITCH ! Wally West court au secours de Flash, par Robert VENDITTI, Van JENSEN et Brett BOOTH ! Green Arrow et Tarantula partent pour la frontière mexicaine, par Ben PERCY, Patrick ZIRCHER et Fabrizio FIORENTINO ! Zeke, l'enfant de Zola se retrouve à nouveau au centre de toutes les attentions, au grand désarroi de Wonder Woman, par Meredith FINCH et David FINCH !
(Contient les épisodes US JUSTICE LEAGUE #46, JUSTICE LEAGUE OF AMERICA #6, FLASH #45, GREEN ARROW #46 et WONDER WOMAN #46)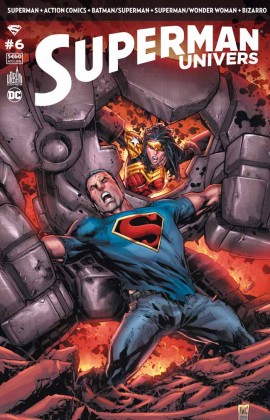 SUPERMAN UNIVERS tome 6
La révélation de l'identité de Superman !
Dans l'arène, Superman se fait de nouveaux alliés, par Gene YANG et Howard PORTER ! Superman se retrouve contaminé par Rage, par Greg PAK, Aaron KUDER et Scott KOLINS ! Superman et Wonder Woman face au Parasite, par Peter TOMASI et Doug MAHNKE ! Grayson et Red Hood rejoignent Batgirl et Superman, par Greg PAK et Cliff RICHARDS ! et conclusion des tribulations de Bizarro et Jimmy Olsen, par Gustavo DUARTE, Heath CORSON et Tim SALE !
(Contient les épisodes US SUPERMAN #46, ACTION COMICS #46, BIZARRO #6, SUPERMAN & WONDER WOMAN #23 et BATMAN/SUPERMAN #26)