Bonjour à tous,
Les sorties de cette semaine,
En VO :
ALL NEW INVADERS #3 ANMN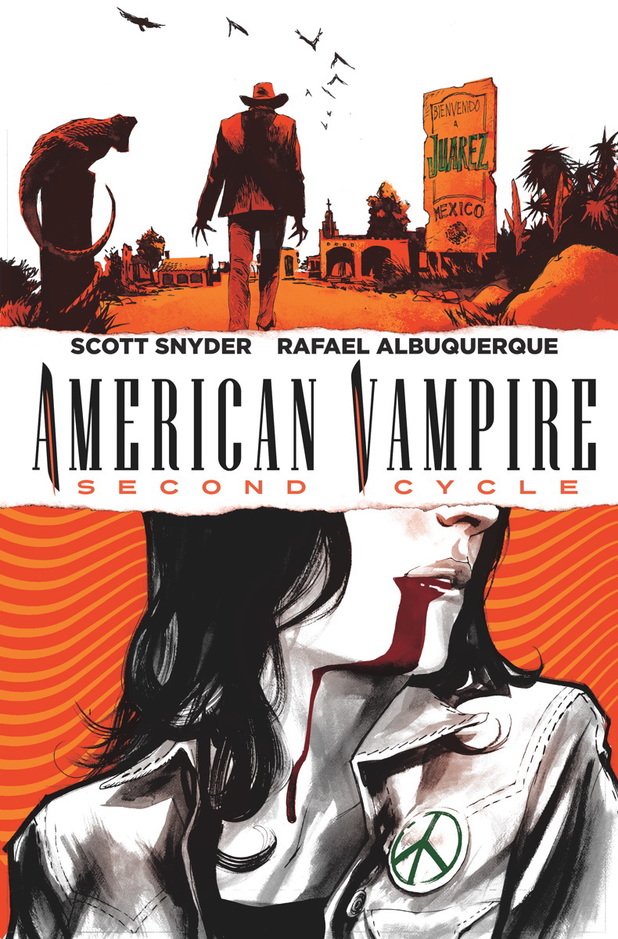 AMERICAN VAMPIRE SECOND CYCLE #1
ANIMAL MAN #29
AVENGERS WORLD #4 ANMN
BATMAN 66 #9
BATMAN AND AQUAMAN #29
BATMAN BEYOND UNIVERSE #8
BATWOMAN #29
BIRDS OF PREY #29
CROSSED BADLANDS #49

DEATH TP
DISNEY KINGDOMS SEEKERS OF WEIRD #3 (OF 5)
GHOSTED #8
GREEN ARROW TP VOL 04 THE KILL MACHINE (N52)
GREEN LANTERN NEW GUARDIANS #29
GREEN LANTERN RISE OF THE THIRD ARMY TP (N52)
HARBINGER BLEEDING MONK #0.2014 REG HENRY
HARLEY QUINN #4
HELLBOY FIRST 20 YEARS HC
IRON MAN #23.NOW ANMN
LAZARUS #7
LEGENDERRY A STEAMPUNK ADV #3 (OF 7)
LETTER 44 #5
MARVEL KNIGHTS HULK #4 (OF 4)
MASTERS OF THE UNIVERSE TP VOL 02 ORIGINS OF ETERNIA

NEMO ROSES OF BERLIN HC
NEW AVENGERS #15
NEW AVENGERS TP VOL 01 EVERYTHING DIES
NOAH HC
NOVA #15 ANMN
PROPHET #43
RED HOOD AND THE OUTLAWS #29
REVOLUTIONARY WAR WARHEADS #1
ROCKET GIRL #4
SAGA TP VOL 03
SEX CRIMINALS #5
SHADOWMAN #16 REG DE LA TORRE

SUICIDE SQUAD #29 (EVIL)
SUPERGIRL #29
SUPERIOR FOES OF SPIDER-MAN #10
SUPERIOR SPIDER-MAN ANNUAL #2
SUPERMAN UNCHAINED #6
TEN GRAND #8
THOR GOD OF THUNDER #20 ANMN
THUNDERBOLTS #23
TMNT UTROM EMPIRE #3 (OF 3)
TRINITY OF SIN PANDORA #9 (EVIL)
UNCANNY X-MEN #19.NOW ANMN

WHITE SUITS #2 (OF 4)
WINTER SOLDIER BITTER MARCH #2 (OF 5) ANMN
WOLVERINE AND X-MEN #2 ANMN
WONDER WOMAN #29
X-MEN #12 ANMN
X-O MANOWAR #23 REG CAFU (AH)
ZERO #6


Luther Strode T.2 : La légende
Il y a cinq ans, Luther Strode développait son talent pour la destruction grâce à un livre. Un livre qui lui a coûté tout ce qu'il avait de plus cher. Désormais, il est le plus grand cauchemar de tous les criminels de la ville... Mais quelqu'un a décidé de l'éliminer. Fans de gore et d'hyper-violence, réjouissez-vous ! Luther est de retour et il explose les têtes !
Alors que la perspective du retour à une vie normale semblait possible, Al Simmons est à nouveau "réuni" à son ombre... Il tente de libérer le Major Forsburg, mais se trouve finalement aspiré dans la prison mentale du Major. Les ombres de la ville cachent mille secrets. Mais seuls les méchants ont quelque chose à redouter du mystérieux vengeur de la nuit... Spawn !
Pour Tamara, le choc est double. Elle découvre un père qu'elle pensait mort et doit apprendre à maîtriser ses nouveaux pouvoirs. Mais tout ça paraît bien dérisoire quand la survie de l'humanité est en jeu... Des ados dotés de super- pouvoirs et allergiques à toute forme d'autorité. La moindre étincelle peut déclencher l'apocalypse... SuperWorld, un comics super-brillant !